What is the "best" Hebrew Name of God? Some of the Jewish sages have said that it is revealed by reciting all 304,805 letters of the Torah in a series. That is, string together all 304,805 letters of the Torah - from the first letter of Bereshit (Bet) through the last letter of Devarim (Lamed) - and "read" this as a single "Word."





Of course, we should also add the letters for the Prophets (neviim) and the Writings (ketuvim) to the Torah's 304,805 letters, not to mention the 138,020 words of the Greek New Testament. When we do so, we have the 3,000,000 letter name of God!

Obviously this "Name" of God is intended to humble us and to remind us that God Himself is Ein Sof - without End or limitation of any kind. God is always greater than our greatest thoughts about Him, even if we attempt to express His transcendence by means of the sacred letters of the Torah.



Abba

Taking a different approach, we learn from the teachings of Yeshua the Mashiach that the Name of God is best understood as "Father." In fact, Yeshua used the common Aramaic word for "father" (abba) to refer to His relationship with God, and He wanted his talmidim (disciples) to do likewise.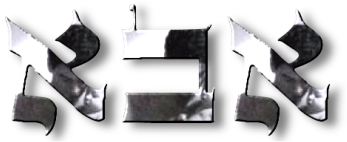 We do not need gnostic awareness or ethereal speculations to help us understand the Name of God our Father. He relates to us intimately as a good earthly father relates to his children. We do not need incantations or abracadabra to conjure up feelings to help us overcome the existential void that haunts us - we can trust that the love of our Father in heaven as exemplified in the gracious sacrifice of His Son for us. We do not trust in emanations of spiritual forces hidden in Hebrew letters, since we can know the "Word that is behind the word" as experienced in the life and love of Yeshua our Savior.

It is well and good to understand the meaning of the hundreds of Names and Titles of God as revealed in the Scriptures, of course, but in the end we need to trust in Him as a small child trusts in the love of his father....